Editor's note: This post is part of our weekly In the NVIDIA Studio series, which celebrates featured artists, offers creative tips and tricks, and demonstrates how NVIDIA Studio technology improves creative workflows. We're also deep diving on new GeForce RTX 40 Series GPU features, technologies and resources, and how they dramatically accelerate content creation.
In the NVIDIA Studio artists have sparked the imagination of and inspired countless creators to exceed their creative ambitions and do their best work.
We're showcasing the work of these artists — who specialize in 3D modeling, AI, video editing and broadcasting — this week, as well as how the new GeForce RTX 40 Series line of GPUs makes the creative process easier and more efficient.
These powerful graphics cards are backed by NVIDIA Studio — an ecosystem of creative app optimizations, dedicated NVIDIA Studio Drivers and NVIDIA AI-powered apps. Check out the latest GeForce RTX 40 Series GPUs and NVIDIA Studio laptops for the best performance in content creation, gaming and more.
In addition, the community around NVIDIA Omniverse, a 3D design collaboration and simulation platform that enables artists to connect their favorite 3D tools for more seamless workflows, is partnering with NVIDIA Studio on the #WinterArtChallenge. Join the Omniverse team live on Twitch as they create a scene and answer questions on Wednesday, Nov. 30, at 11 a.m. PT. Add the event to your calendar.
'Tis the season! ❄ 🎄

Join us as we partner with @NVIDIAStudio on their #WinterArtChallenge.

Through the end of the year, share any winter themed art #MadeInOmniverse with us using #WinterArtChallenge!

🖼 by Edward McEvenue, created using #OmniverseCreate & @sketchfab. pic.twitter.com/pdRQ2eJRX1

— NVIDIA Omniverse (@nvidiaomniverse) November 16, 2022
Finally, just in time this holiday season, check out our latest NVIDIA Studio Standout featuring whimsical, realistic, food inspired artwork, and the artists behind it. We dare you not to get hungry.
GeForce RTX 4080 GPU Delivers Impressive Performance
Members of the press and content creators have been putting the new GeForce RTX 4080 GPU through a wide variety of creative workflows. Here's a sampling of their reviews:
"The addition of AV1 encoding means that any 40-series GPU—and I mean any of them—is going to make your PC substantially faster at this kind of rendering compared to any of the other GPUs we've tested here." — Linus Tech Tips
"If you are using a non-RTX GPU, you are missing out on a massive suite of applications and support to give you limitless possibilities as a streamer, YouTuber, podcaster, artist, animator and more." — CG Magazine
"For 3D animators, there's nothing better than a GeForce RTX 4080 in combo with NVIDIA STUDIO drivers and future DLSS 3 support for Twinmotion, V-Ray, Unity, Cinema 4D, Arnold, Adobe Designer, 3D Painter and 3D Sampler." — Tuttotech.net
"As far as I'm concerned this thing is a no-brainer for anyone who does graphic intensive work, works in video production, or does high end streaming." — Jay Lippman
"Overall, the RTX 4080 16GB Founders Edition Graphics Card is an excellent choice for Content Creators and CG Artists who have been desperately looking for an upgrade over the past 2-3 years! For 3D GPU Rendering Workloads, in particular, we're happy to finally see a GPU that deserves a recommendation." — CG Director
"As far as the 4080 goes for creative individuals, I've got no doubt that if you're rendering 3D models or 4K video, you're going to have a fantastic time with this GPU. There's also now dual AV1 video encoders on board which means that you can stream at higher resolutions with the likes of Discord." — Press Start
Pick up the GeForce RTX 4080 GPU or a prebuilt system today using our Product Finder.
Character Creator Pablo Muñoz Gómez
Concept artist Pablo Muñoz Gómez is equally passionate about helping digital artists — teaching 3D classes and running the ZBrush Guides website — as he is about his own creative specialties: concept and character artistry.
HARVESTERS is a demo concept Gómez created to illustrate a complete ZBrush workflow for his students. He upgraded his render linework with color palette blocking and refinement, and finished with a Z-depth pass to create a depth-of-field effect.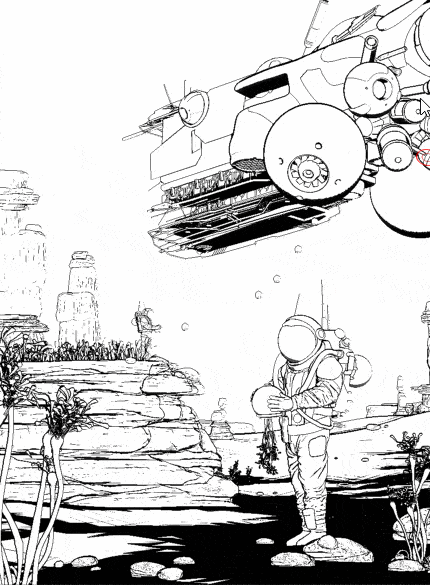 Gómez also excels in photorealistic 3D character modeling, as evidenced in his piece Tadpole.
Gómez often uses Adobe Substance 3D Painter to apply colors and materials directly to his 3D models. NVIDIA Iray technology in the viewport enables Gómez to edit in real time and use ray-traced baking for faster rendering speeds — all accelerated by his hardware. Artists can expect even faster asset baking with GeForce RTX 40 Series GPUs.
For further customization, Gómez prefers to download assets from the vast Substance 3D Asset library and import into Substance 3D Sampler, adjusting a few sliders to create photorealistic materials. RTX-exclusive interactive ray tracing lets Gómez apply realistic effects in real time. Powered by GeForce RTX 40 Series GPUs, these tasks can be completed even faster than with the previous generation.
With GeForce RTX 40 Series GPUs, 3D artists like Gómez can now build scenes in fully ray-traced environments with accurate physics and realistic materials — all in real time, without proxies, in the NVIDIA Omniverse beta.
DLSS 3 technology uses the AI-powered RTX Tensor Cores and a new Optical Flow Accelerator to generate additional frames and dramatically increase frames per second (FPS). This improves smoothness and speeds up movement in the viewport. NVIDIA is also working with popular 3D apps Unity and Unreal Engine to integrate DLSS 3.
Gómez is the founder of ZBrush Guides and the 3D Concept Artist academy. View his courses, tutorials, projects and more on his website.
Karen X. Cheng Has an AI on the Future
Karen X. Cheng is an award-winning director on the forefront of using AI to design amazing visuals. Her innovative work produces eye-catching effects in social media videos for brands like Adobe, Beats by Dre and Instagram. Her videos have garnered over 500 million views.
Cheng was quick to embrace the AI-powered NVIDIA Canvas app — a free download available to anyone with a GeForce RTX GPU. With it, she easily created and shared photorealistic imagery. NVIDIA Canvas is powered by the GauGAN2 AI model and accelerated by Tensor Cores found exclusively on RTX GPUs.
The app uses AI to interpret basic lines and shapes, translating them into realistic landscape images and textures. Artists of all skill levels can use this advanced AI to quickly turn simple brushstrokes into realistic images, speeding up concept exploration and allowing for increased iteration. This frees up valuable time to visualize ideas.
Well this is impressive. AI Painting with NVIDIA Canvas download link: https://t.co/WBBiqBJ3U2 #nvidia #artificialintelligence @nvidia pic.twitter.com/CgsWXad2No

— Karen X. Cheng (@karenxcheng) May 5, 2022
Lately, Cheng's focus has been on Instant NeRF technology, which uses AI models to transform 2D images into high-resolution 3D scenes nearly instantly.
She and her collaborators have been experimenting with it to bring 2D scenes to life in 3D, and the result was an extraordinary mirror NeRF complete with clouds and stunning camera movement.
Cheng and team also created a sidewalk NeRF that garnered over 1 million views on Instagram.
A NeRF is a computationally intensive algorithm that processes complex scenes. The new line of GeForce RTX 40 Series GPUs is a creator's best bet to navigate these workflows and finalize artwork as quickly as possible.
Check out Cheng's incredible collection of art on Instagram.
Lights, Camera, Action, WATCHHOLLIE
Compassionate, colorful, caps-lock incarnate — that's WATCHHOLLIE. Trained as a video editor, WATCHHOLLIE experimented with a YouTube channel before discovering Twitch as a way to get back into gaming.
Her streams promote mental health awareness and inclusivity, establishing a safe place for members of the LGBTQ+ community like herself. She gives back to the creative community as a founder of WatchUs, a diversity-focused team that teaches aspiring creators how to grow their business, develop brand partnerships and improve their streaming setup.
WATCHHOLLIE and her fellow livestreamers can pick up GeForce RTX 40 Series GPUs featuring the eighth-generation NVIDIA video encoder (NVENC), which offers a 40% increase efficiency with AV1 encoding, unlocking higher resolution and crisper image quality. OBS Studio and Discord have enabled AV1 for 1440p and 4K resolution at 60 FPS.
In addition, GeForce RTX 40 Series GPUs feature dual encoders that allow creators to capture up to 8K60. When it's time to cut a video on demand of livestreams, the dual encoders work in tandem to divide the work automatically, slashing export times nearly in half.
Blackmagic Design's DaVinci Resolve, the popular Voukoder plug-in for Adobe Premiere Pro (WATCHHOLIE's preferred software) and Jianying — the top video editing app in China — have all enabled dual encoder through encode presets to export final files, fast.
Gaming livestreamers using GeForce RTX 40 Series GPUs will experience an unprecedented gen-to-gen frame-rate boost in PC games alongside NVIDIA DLSS 3 technology, which accelerates performance by up to 4x.
Follow and subscribe to WATCHHOLLIE's social media channels.
Join the #WinterArtChallenge
Enter NVIDIA Studio's #WinterArtChallenge, running through the end of the year, by sharing winter-themed art on Instagram, Twitter or Facebook for a chance to be featured on our social media channels.
❄ Winter is coming and so is our next Studio Community Challenge! ❄️

Join our Nov-Dec #WinterArtChallenge by sharing winter art that you've made, like this great one from @pra5han for a chance to be featured on our channels. ⛄

Tag #WinterArtChallenge so we can see your post! pic.twitter.com/8tpoyNBXXJ

— NVIDIA Studio (@NVIDIAStudio) November 1, 2022
Check out @Prayag_13's winter scene full of whimsical holiday details:
My submission for #WinterArtChallenge by @NVIDIAStudio pic.twitter.com/AHCCeq5qKU

— mprayagraj.eth ✨ (@Prayag_13) November 15, 2022
Be sure to tag #WinterArtChallenge to join. Get creativity-inspiring updates directly to your inbox by subscribing to the NVIDIA Studio newsletter.