Highly accurate digital representations of physical objects or systems, or "digital twins," will enable the next era of industrial virtualization and AI, executives from NVIDIA and BMW said Tuesday.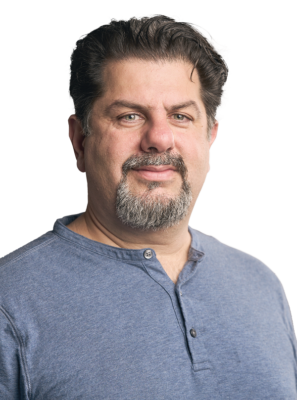 Kicking off the ISC 2022 conference in Hamburg, Germany, NVIDIA's Rev Lebaredian (left), vice president for Omniverse and simulation technology, was joined by Michele Melchiorre, senior vice president for product system, technical planning, and tool shop at BMW Group.
"If you can construct a virtual world that matches the real world in its complexity, in its scale and in its precision, then there are a great many things you can do with this," Lebaredian said.
While Lebaredian outlined the broad trends and technological advancements driving the evolution of digital twin simulations, Melchiorre offered a detailed look at how BMW has put digital twins to work in its own factories.
Melchiorre explained BMW's plans to use digital twins as a tool to become more "lean, green and digital," describing real-time collaboration with digital twins and opportunities for training AIs as a "revolution in factory planning."
Digital twins such as the BMW iFACTORY initiative described by Melchiorre — which harnesses real-time data, simulation and machine learning — are an example of how swiftly digital twins have become workhorses for industrial companies such as Amazon Robotics, BMW and others.
These systems will link our representations of the world with data streaming in, in real-time, from these worlds, Lebaredian explained.
"What we're trying to introduce now is a mechanism by which we can link the two together, where we can detect all the changes in the physical version, and reflect them in the digital world," Lebaredian said. "If we can establish that link we gain some amazing superpowers."
Supercomputing Is Transforming Every Field of Discovery
And it's another powerful example of how technologies from the supercomputing industry — particularly its focus on simulation and data center scale GPU computing — are spilling over into the broader world.
At the same time, converging technologies have transformed high-performance computing, Lebaredian said. GPU-accelerated systems have become a mainstay not just in scientific computing, but edge computing, data centers and cloud systems.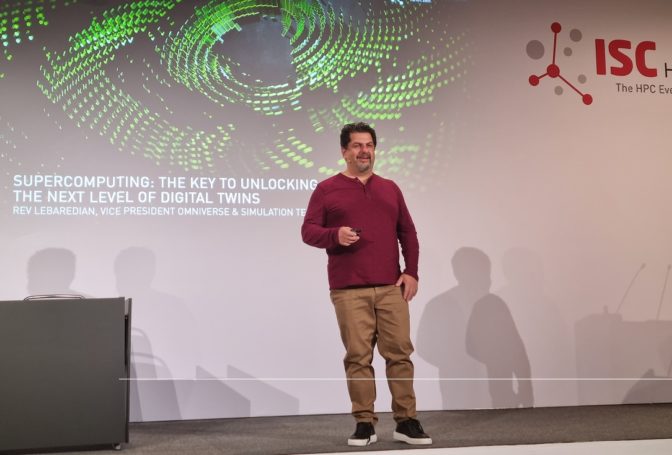 And AI-accelerated GPU computing has also become a cornerstone of modern high-performance computing. That's positioned supercomputing to realize the original intent of computer graphics: simulation.
Computers, algorithms and AI have all matured enough that we can begin simulating worlds that are complex enough to be useful on an industrial scale, even using these simulations as training grounds for AI.
World Simulation at an Inflection Point
With digital twins, a new class of simulation is possible, Lebaredian said.
These require precision timing — the ability to simulate multiple autonomous systems at the same time.
They require physically accurate simulation.
And they require accurate ingestion of information from the "real twin," and continuous synchronization.
These digital twin simulations will give us "superpowers."
The first one Lebaradian dug into was teleportation. "Just like in a multiplayer video game any human anywhere on earth can teleport into that virtual world," Lebaradian said.
The next: time travel.
"If you record the state of the world over time, you can recall it at any point, this allows time travel," Lebaradian said.
"You can not only now teleport to that world, but you can scrub your timeline and go backwards to any point in time, and explore that space at any point in time," he added.
And, finally, these simulations, if accurate enough, will let us understand what's next.
"If you have a simulator that is extremely accurate and actually predictive of what will happen in the future if you understand the laws of physics well enough you essentially get time travel to the future," Lebaredian said.
"You can compute not just one possible future, but many possible futures," he added, outlining how this could let city planners see what could happen as they modify a city, plan the road and change the traffic systems to find "the best possible future."
Modern supercomputing is unlocking these digital twins, which are extremely compute-intensive and require precision timing networking with extremely low latency.
"We need a new kind of supercomputer, one that can really accelerate artificial intelligence and run these massive simulations in true real-time," Lebaradian said.
That will require GPU-accelerated systems that are optimized at every layer of the system to enable precision timing.
These systems will need to run not just on the data center, but reach the edge of networks to bring data into virtual simulations with precision timing.
Such systems will be key to advances on scales both small — such as drug discovery, and large — such as climate simulation.
"We need to simulate our climate we need to look really far out, we need to do so at a precision that's never been done before, and we need to be able to trust our simulations are actually predictive and accurate, if we do that we have some hope we can deal with this climate change situation," Lebaradian said.
BMW's iFACTORY: "Lean, Green and Digital"
BMW's Melchiorre provided an example of how this broad vision is being put to work today at BMW, as the automaker seeks to become "lean, green and digital."
BMW has built exceptionally complex digital twins, simulating its factories with humans and robots interacting in the same space, at the same time.
It's an effort that stretches from the factory floor to the company's data center, to its entire supply chain. This digital twin involves millions of moving parts and pieces that are connected to an enormous supply chain.
Melchiorre walked his audience through a number of examples of how digital twins simulate various pieces of the plant, simulating how industrial machinery, robots, and people will move together.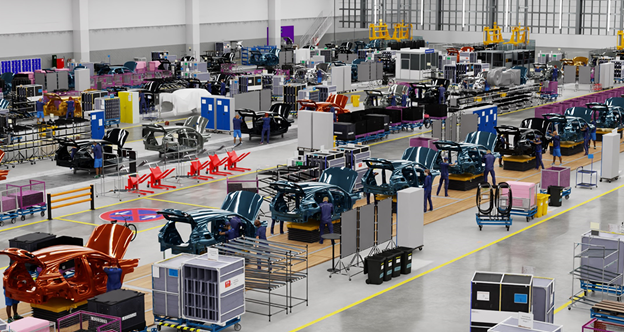 And he explained how they are leveraging NVIDIA technology to simulate entire factories before they're even built.
Melchiorre showed an aerial image of the site where BMW is building a new factory in Hungary. While the real-world factory is still mostly open field, the digital factory is 80% complete.
"This will be the first plant where we will have a complete digital twin much before production starts," Melchiorre said.
In the future, the iFACTORY will be real in all of BMW's plants, Melchiorre explained, from BMW's 100-year-old home plant in Munich to its forthcoming plant in Debrecen, Hungary.​
"This is our production network, not just one factory – each and every plant will go in this direction, every plant will develop into a BMW iFACTORY, this is our master plan for our future," Melchiorre said.