Editor's note: This is one in a series of Meet the Omnivore posts, featuring individual creators and developers who use the NVIDIA Omniverse 3D simulation and collaboration platform to boost their artistic or engineering processes.
Don't be fooled by the candy canes, hot cocoa and CEO's jolly demeanor.
Santa's workshop is the very model of a 21st-century enterprise: pioneering mass customization and perfecting a worldwide distribution system able to meet almost bottomless global demand.
So it makes sense that Michael Wagner, CTO of ipolog, a digital twin software company for assembly and logistics planning, would make a virtual representation, or digital twin, of Santa's workshop.
Digital twins like Wagner's "santa-factory" can be used "to map optimal employee paths around a facility, simulate processes like material flow, as well as detect bottlenecks before they occur," he said.
Wagner built an NVIDIA Omniverse Extension — a tool to use in conjunction with Omniverse apps — for what he calls the science of santa-facturing.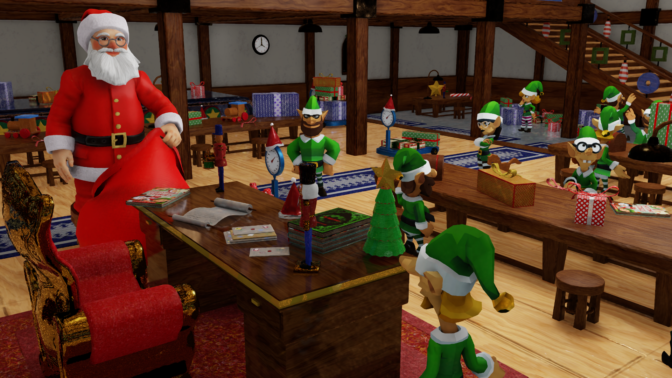 Creating the 'Santa-Facturing' Extension
To deck the halls of the santa-factory, Wagner needed a virtual environment where he could depict the North Pole, Santa himself, hundreds of elves and millions of toy parts. Omniverse provided the tools to create such a highly detailed environment.
"Omniverse is the only platform that's able to visualize such a vast amount of components in high fidelity and make the simulation physically accurate," Wagner said. "My work is a proof of concept — if Omniverse is fit to visualize Santa's factory, it's fit to visualize the daily material provisioning load for a real-world automotive factory, for example, which has a similar order of complexity."
Ipolog recently provided BMW with highly detailed elements like racks and boxes for a digital twin of the automaker's factory.
With the help of ipolog software and other tools, BMW is creating a digital twin-based factory of the future with NVIDIA Omniverse, which enables the automaker to simulate complex production scenarios taking place in more than 6 million square meters of factory space.
Digital twin simulation speeds output and increases efficiency for BMW's entire production cycle — from the examination of engineering detail for vehicle parts to the optimization of workflow at the factory-plant level.
Wagner used Omniverse Kit, a toolkit for building Omniverse-native extensions and applications, to create the santa-facturing environment.
The developer is also exploring Omniverse Code — a recently launched app that serves as an integrated development environment for developers to easily build Omniverse extensions, apps or microservices.
"The principle of building on the shoulders of giants is in the DNA of the Omniverse ecosystem and the kit-based environment," Wagner said. "Existing open-source extensions, which any developer can contribute to, provide a good base from which to start off and quickly create a dedicated app or extension for digital twins."
Visualizing the 'Santa-Factory'
Using Omniverse, which includes PhysX — a software development kit that provides advanced physics simulation — Wagner transformed 2D illustrations of the santa-factory into a physically accurate 3D scene. The process was simple, he said. He "piled up a lot of elements and let PhysX work its magic."

To create the glacial North Pole environment, Wagner used the Unreal Engine 4 Omniverse Connector. To bring the trusty elves to life, he brought in animations from Blender. And to convert the huge datasets to Universal Scene Description format, Wagner worked with Germany-based 3D software development company NetAllied Systems.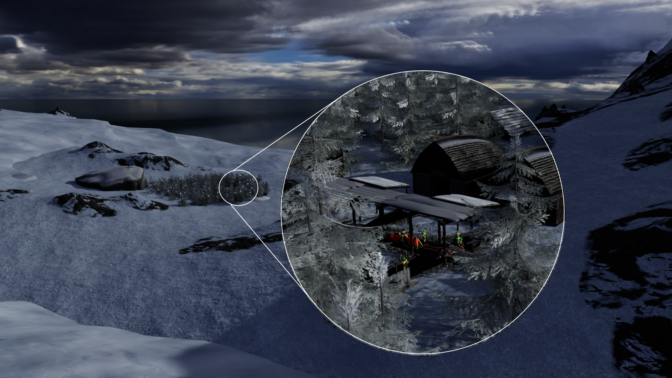 What better example of material supply and flow in manufacturing than millions of toy parts getting delivered to Santa's workshop? Watch Wagner's stunning demo of this, created in Omniverse:
Such use of digital twin simulations, Wagner said, allows manufacturers to visualize and plan their most efficient workflow, often reducing the time it takes to complete a manufacturing project by 30 percent.
Looking forward, Wagner and his team at ipolog plan to create a full suite of apps, extensions and backend services to enable a manufacturing virtual world entirely based on Omniverse.
Learn more about the santa-facturing project and how Wagner uses Omniverse Kit.
Attend Wagner's session on digital twins for manufacturing at GTC, which will take place March 21-24.
Creators and developers can download NVIDIA Omniverse for free and get started with step-by-step tutorials on the Omniverse YouTube channel. Follow Omniverse on Instagram, Twitter and Medium for additional resources and inspiration. Check out the Omniverse forums and join our Discord Server to chat with the community.